Blizzard after blizzard after blizzard
A couple of months ago I remember complaining on this blog about a blizzard that passed us by and how ticked off I was about that. Well, I think the snow gods heard me.
The past two Tuesdays, we have been hit with snowfalls of 10 inches each. And the forecast for the the weekend? More snow, and it looks like a lot of it.
I'm not really complaining, because I still love the snow, but now that I have a job it can be a little bit of a nuisance - especially when the snow is over a foot deep and the driveway is impassible.
We're fortunate that we have relatives that will plow our driveway, but they normally can't get over to our house until after work. Last Tuesday, I got stuck twice in our driveway. This week, we woke up to find half the driveway plowed, so someone was up early. Thanks Dave!
Here are a few pictures of the scenery around the house right now.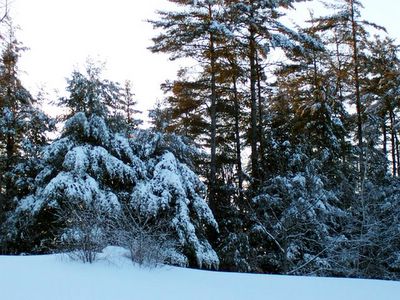 There are the trees in our back yard, covered with snow.
A nice picture of the field behind our house and the woods beyond.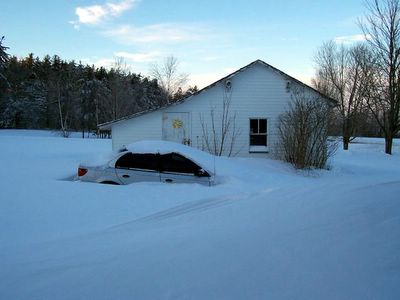 Chris' car. Good thing it's not due back at the leasing office until April or May.
The snowplow took out the mailbox, so this is where it spent its Wednesday.
My attempt at an artistic picture. I thought it turned out kind of nice.
This is my favorite picture I took. I was trying to do another one of those 'artistic' pictures and didn't even notice China running in the background. This was one of those happy accidents. Doesn't she look like she's having a blast?